HRH Princess Maka Chakri Sirindhorn Presides over the 1st Committee Meeting of 2012
HRH Princess Maka Chakri Sirindhorn Presides over the 1st Committee Meeting of 2012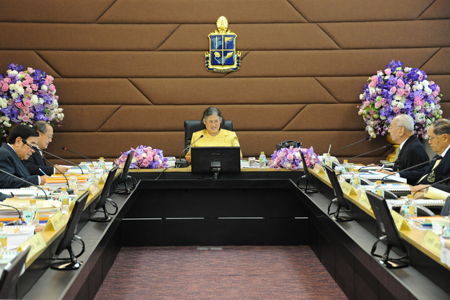 On December 11, 2012, Her Royal Highness Princess Maha Chakri Sirindhorn presided over the Chaipattana Foundation's Committee Meeting, 1/2012, at the Office of the Chaipattana Foundation in the Royal Development Projects Office Building (Rama VIII Bridge). On this occasion, HRH Princess handed contributive medals for distinguished contribution to 127 volunteers who have supported the Chaipattana Foundation.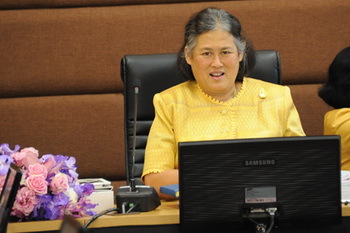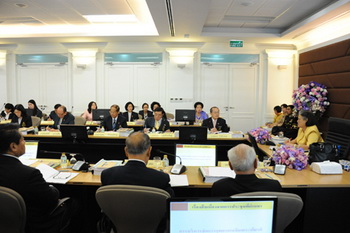 According to the meeting in 2012, a totaling about 82 acres of land had been donated to the Chaipattana Foundation from different regions of Thailand and were allocated into 6 plots in the Central part, 7 plots  in the Northern part, 2 plots in the Southern part and a plot in the Northeastern part. The Chaipattana Foundation owns the land of approximately 3,736 acres in different 50 provinces altogether. The land is to be utilized for the projects based on royal initiatives which cover the development of all aspects. The Chaipattana Foundation has currently worked on 222 projects across the country under 3 sections: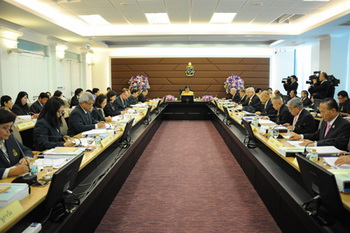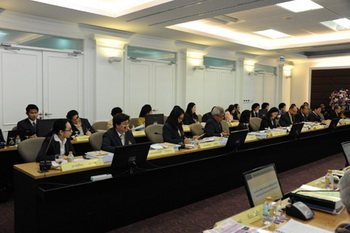 - Research and Development Section aims for further development based on the research for projects, such as Tea Oil Camellia and Oil Crops Development Center in Chiang Rai Province, Royally-Initiated Laem Phak Bia Environmental Research and Development Projects in Phetchaburi Province, and Royally-initiated Acid Soil Study and Experimentation Project in Nakhon Nayok Province.

- Social Service Section is designed for projects with the aim to become the knowledge center for people to visit and learn about the concepts which is to be applied in their career. Projects in this area includes Chaipattana Aerator Project, Chakrabandh Pensiri Center for Plant Development in Chiang Rai and Saraburi Province, Agricultural Services Center in Pathum Thani Province, Ban Ang Ed Community Forest Development Project in Chanthaburi Province, and Chaipattana-Thai Red Cross Village in Phang Nga Province.

- Social Business Section is the frame concept for projects with business investment for the optimum benefits such as Bhumirak Dhamachart Center in Nakhon Nayok Province. However, more projects are in the process of investment and development to become self-reliant in the near future, such as The Chaipattana Rice Mill in Ayutthaya Province, ML Bua Kitiyakorn 100th Anniversary Center in Nakhon Nayok Province, Vegetable Oil Refining and Bio-Diesel Integrated Production Plant in Prachuap Khirikhan Province.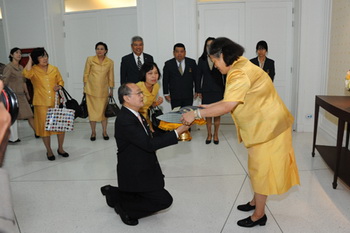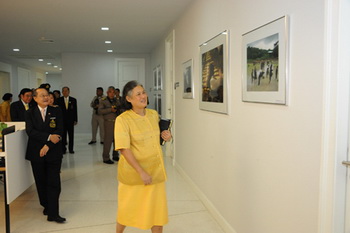 Every project of the Chaipattana Foundation's operations and outcome is regularly measured and evaluated by Chulalongkorn University's professors, academics and many specialized scholars to form up the standard for further efficient development.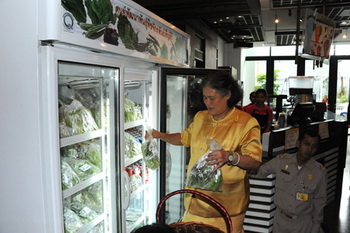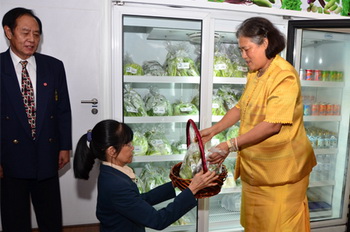 Pat Pat

In 2012, Pat Pat has increased its selling channels in different reachable places such as in 5 Phu Fah shops  at Siam Discovery, Chamchuri Square, Ramathibodi Hospital, Paradise Park, and Jatujak Weekend Market. Available products ranging from Tea Oil, Herbal Ointment, and Dried Garlic, for example, are placed at every shops as well as the Royal Chitralada Project shop and the Sukhothai Hotel, where local fabric handcrafts are also available.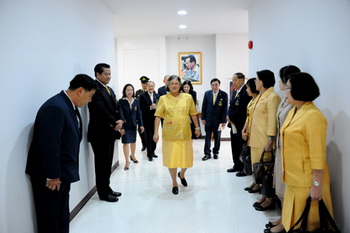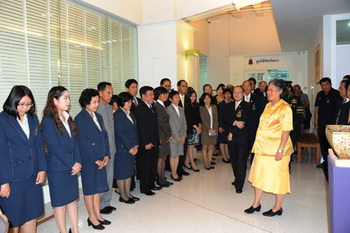 Pat Pat has supported the handcrafting of vetiver grass by 10 different communities across the country with the cooperation of PTT Public Company Limited, and has launched Pat Pat drinking water which is available in shops of the Chaipattana Foundation's project as well as Chitralada School. Furthermore, Pat Pat has been invited to place its unique product in several exhibitions abroad such as in Thailand Grand Fair 2012 in Brunei Darussalam and in Lao People's Democratic Republic in accordance to reach Thai communities in different countries and for them to truly understand the concepts of the Chaipattana Foundation's work.