Key Projects

Ampawa-Chaipattananurak
Ampawa-Chaipattananurak
The Ampawa-Chaipattananurak Conservation Project
Serving as the reminiscence of the past, the Ampawa-Chaipattananurak Conservation Project today has become a center of collaboration to conserve and develop Thai traditions on which the Ampawa residents have had pride themselves. The implementation is focused on local participation with the Chaipattana Foundation as a planner and facilitator to ensure cultural conservation and social development on the path of self-reliance and sustainability.
Because the cultural heritage at the Ampawa riparian community is not intended to be kept alive merely within the local community, the Project has been promoted as a destination for ecotourism for both Thai and foreign visitors. The project area is arranged into five sections:
Community Shops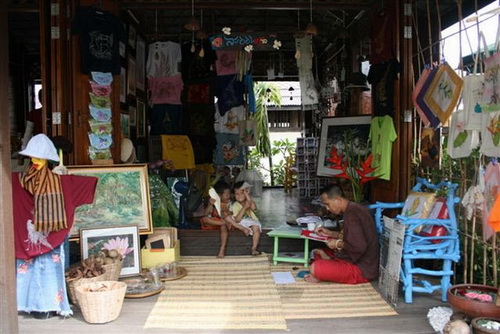 Located along the Pracha-uthit Road, the space offered for rent to local traders within the Ampawa Municipal City. Visitors can enjoy browsing shops that sell local and Thai crafts and antiques as well as souvenirs. Local and traditional food, deserts and fruits are always available.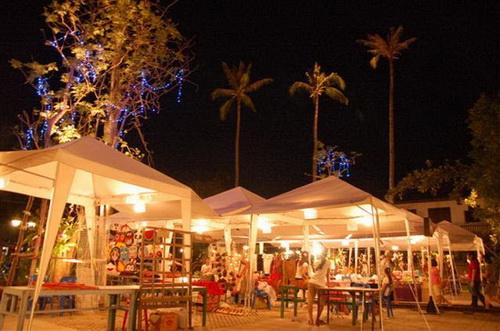 Chaan Chala Coffee & Tea House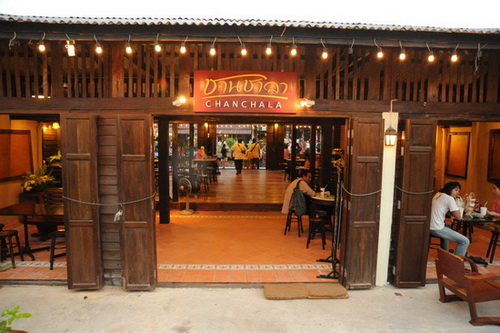 Situated by the Ampawa canal, Chaan Chala has become a popular rendezvous for the project visitors who can sit back and enjoy the vintage and retro interior in peace while observing the lively floating market outside. Managed by the Chaipattana Foundation, Chaan Chala (Platform) also serves hot and cold beverages together with tasty ice crème and Thai sweets. Visitors can also shop for the Project's high quality gifts and souvenirs.
Ampawa Community Exhibition
Located close to Chaan Chala is the area for exhibition of items and information to promote local culture and traditions. This is a section for visitors to gain knowledge about the Ampawa riparian community's past and present.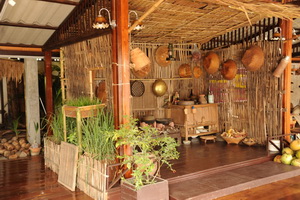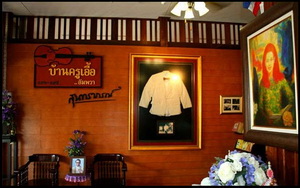 Agricultural Demonstration Farm
An orchard has been developed to demonstrate integrated fruit farming based on local wisdom. Fruit farming is considered to be the integral part the livelihoods in Ampawa. This farm also serves as a centre for information sharing between agricultural practitioners and experts.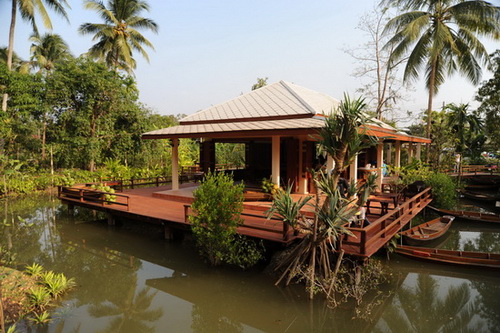 Nakhawarang Cultural Playground
This multi-purpose area hosts performances and activities to promote local culture and traditional ways of life along the Mae Klong River. They rotate monthly and include the following:
Thai traditional musical band
Demonstration of coconut leaf weaving
Traditional cooking
Traditional Thai puppet show
Demonstration of leather shadow play carving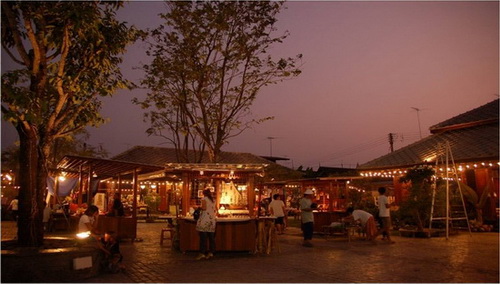 Visitors can also enjoy shopping for crafts, silk, local products, antique furniture, and food and traditional deserts.
Located in Ampawa district of Samut Songkram province, the Ampawa-Chaipattananurak Conservation Project can be reached within two hours by car from Bangkok.