Her Royal Highness Princess Maha Chakri Sirindhorn Visits the Chaipattana's Projects in Chiang Rai Province
Her Royal Highness Princess Maha Chakri Sirindhorn Visits the Chaipattana's Projects in Chiang Rai Province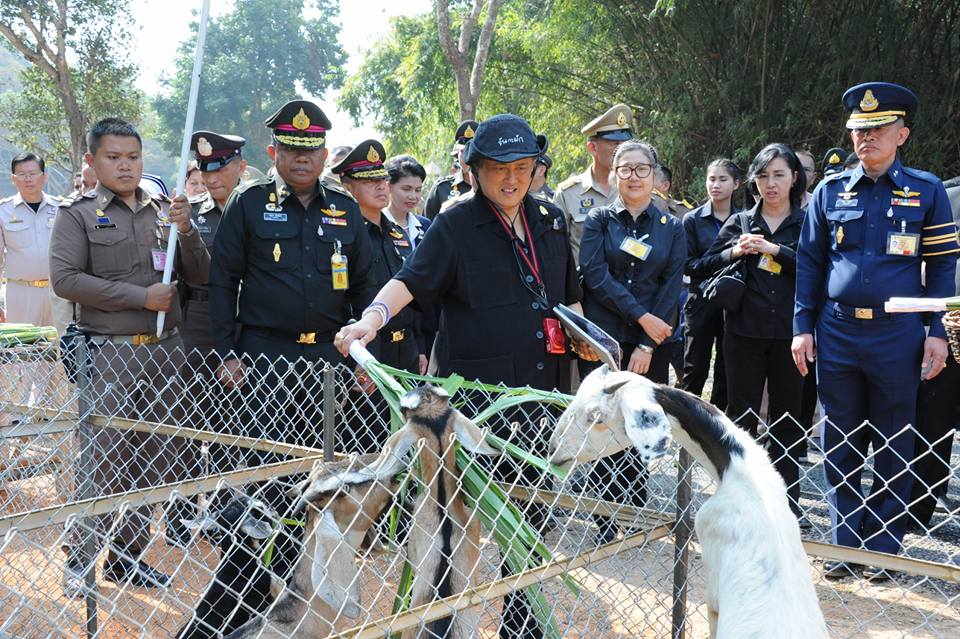 On 15 February, 2017, Her Royal Highness Princess Maha Chakri Sirindhorn traveled to follow up on the activities of the Chaipattana Foundation's Bengal Goat Domestication Project in Chiang Rai province. Her Royal Highness gave a command to Mae Fah Luang Foundation under Royal Patronage and Chaipattana Foundation to breed Bengal goats and distribute them to local people. On this occasion, Her Royal Highness assigned the Chaipattana Foundation to cooperate with the Faculty of Animal Science and Technology, Maejo University, in order to conduct a research on pure breed Bengal goats. Her Royal Highness also asked for the production of hybrid goats which can produce meat and milk and can adjust well to the environment. The research has been conducted to produce the tri-breed goats from Saanen goat and local hybrid Saanen.
Afterward, Her Royal Highness proceeded to the 37th Military Circle, Mengrai Fort in Chiang Rai province to visit the pilot Bengal Goat Domestication Project. This project aims at breeding high and profitable quality Bengal goats to be distributed to the local people. Mengrai Fort has also introduced the project to local people and suggested them to bring their own local goats to breed with Bengal goats in order to produce hybrid local black Bengal goats. In this way, the local people can have good quality breeder goats.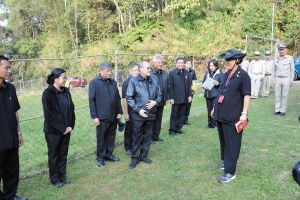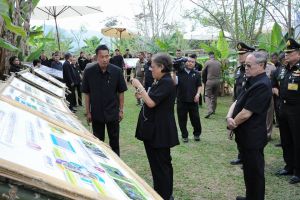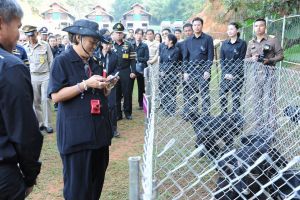 Later, Her Royal Highness proceeded to the Prince Chakrabandh Pensiri Center for Plant Development in Mae Sai district. The Chaipattana Foundation has applied for the registration of two new types of crops developed by Prince Chakrabandh Pensiri Center and Maejo University. On this occasion, On February 10, 2016, Her Royal Highness graciously named these crops "Thepparat Yellow Green Pea 1" and "Chakrabandh Jade Small Eggplant". On this occasion, Her Royal Highness also witnessed different seed plots. The first plot contains the royally-granted seeds, the second plot grows the seeds that Her Royal Highness brought from overseas and the third plot contains the safe vegetables that are also sold and used as ingredients in the dishes served at Jan Ka Pak café and restaurant under the Prince Chakraband Pensiri Center for Plant Development.
On this occasion, Her Royal Highness visited the royally-granted jasmine rice production community "Friends for Friends" at Chang Island district. At the present, there are 28 members who own 359 rai, 3 ngan plantation area from South San Luang Village and Ban San Boonruang. The Chaipattana Foundation aims to produce and preserve good quality rice for the Thai people in every region.
Afterward, Her Royal Highness visited the Tea Oil and Plant Oils Development Center in Mae Sai district, Chiang Rai province to follow up on the work progress. In the year 2016, the production of tea seeds is equivalent to 61,372.7 kilograms which can produce tea oil in the amount of more than 115,343.18 liters. Moreover, the center can produce the Niger seed oil, Britton seed oil, Moringa seed oil and the Trio-Omega 3 6 9 oil which is the combination of the tea seed oil, Britton seed oil and Niger seed oil. The aim is to provide the Thai people more alternatives of healthy consumption products. The Center has developed two new products which are tea seed oil capsule and hair tonic, and has coordinated with the National Food Institute, Ministry of Industry, to establish the hazardous control system and risk control point (HACCP) which are the food safety management system. The control system helps prevent microorganisms, chemical substances and contaminants to assure safety and good quality food. A large machine, cool temperature room and silo are installed for effectiveness and higher productivity.