HRH Princess Maha Chakri Sirindhorn visits Chakraband Pensiri Center to observe the progress of plant breeding in Khaodin Pattana, Chaloem Phra Kiat, Saraburi province
HRH Princess Maha Chakri Sirindhorn visits Chakraband Pensiri Center to observe the progress of plant breeding in Khaodin Pattana, Chaloem Phra Kiat, Saraburi province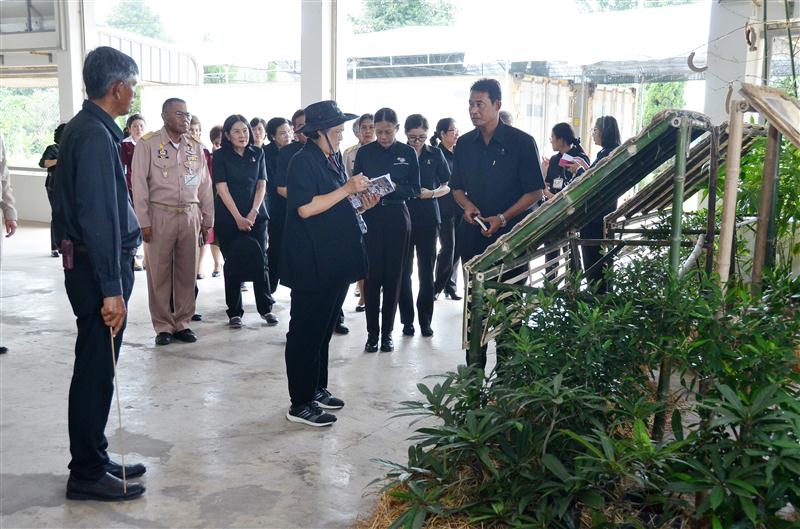 On 4 September 2017, Her Royal Highness Princess Maha Chakri Sirindhorn traveled to Saraburi province to inspect the operational work of Chakraband Pensiri Center for Plant Development of the Chaipattana Foundation. HRH Princess Maha Chakri Sirindhorn graciously bestowed upon the Chaipattana Foundation to establish the Chakraband Pensiri Center of Chiang Rai Province to produce local vegetable seeds for the victims of natural disasters. Later, on July 25th 2011, HRH Princess Maha Chakri Sirindhorn appointed Mr. Sumet Tantivejkul, Secretary General of the Chaipattana Foundation, to develop the crop productions and offer them to the victims of natural disasters. Chaipattana Foundation, therefore, established the Chakraband Pensiri Center based at Saraburi province on the land of the Chaipattana Foundation in August 2011. "Kamphaeng Saen 2" and "Chai Nat" kinds of mungbeans were planted on 100 rai of land. In the following year, the plantation started to produce seeds of green bean, papaya, pumpkin and other local vegetables, such as zucchini, gourd, chili, okra, eggplant, sesbania grandiflora and also tested the stability of sweet corn seeds.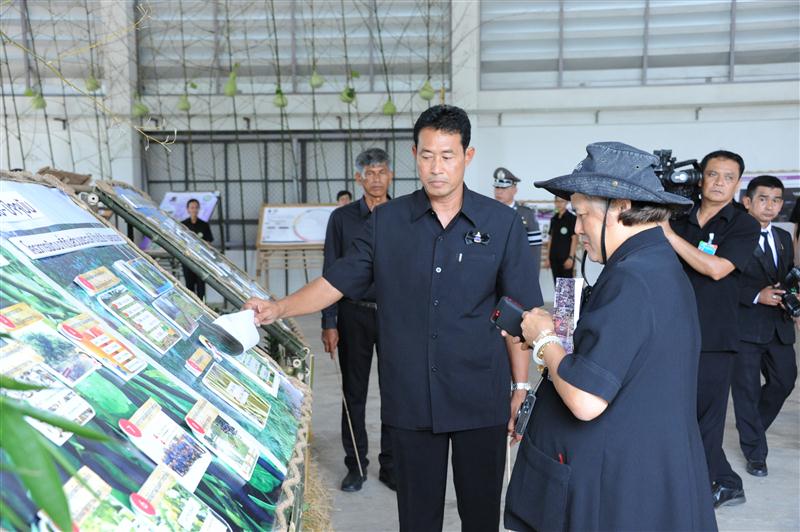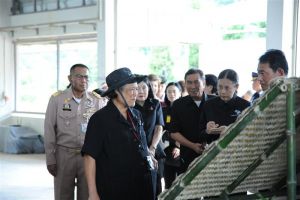 In 2012, HRH Princess Maha Chakri Sirindhorn bestowed upon the Chakraband Pensiri Center at Saraburi province to produce rice for the victims of flooding and drought. On this occasion, HRH Princess Maha Chakri Sirindhorn gave royal permission for farmers in Puka district and Nong sai Khao sub-district, Ban Mei district, Lopburi province, to join the grain production in the Royal Project "Friends for Friends" by Chaipattana Foundation which distributed rice seeds to people in Samut Songkhram province, Sukhothai province, Phra Nakhon Si Ayutthaya province, Chainat province, Chiang Rai province, Nakhon Nayok province, Phatthalung province, Songkhla province, Yala and Narathiwat province. Chaipattana Foundation also cooperated with Kasetsart University and Mae Jo University in researching, improving and developing the plant varieties. Through the program, Kasetsart University has developed a variety of hybrid pumpkins with native varieties of Saraburi native species to develop the royal seeds for the future.
Faculty of Kasetsart University also developed two papaya varieties. The first species is red with a tint of orange, having sweet taste and light fragrance together with fine texture and a weight about 1.5 kilograms. The second species' weight is about one kilogram. At this time, they are on the fourth round of evaluation to ensure consistency before being announced as a new breeding registration.
Department of Horticulture, Faculty of Agriculture, Kasetsart University, Kamphaeng Saen campus in Nakhon Pathom province, will produce the selected varieties of papaya seeds to be the royal seed. This later will be delivered to the Chakraband Pensiri Center to test for seed quality control and then distributed to the people.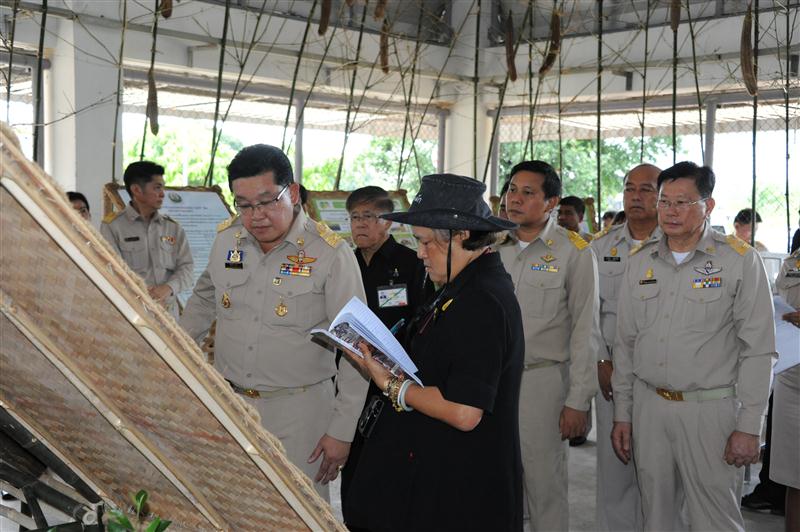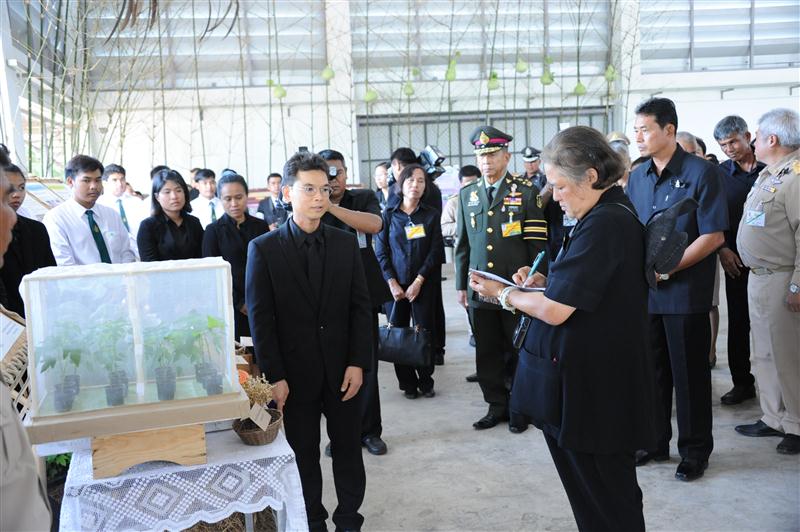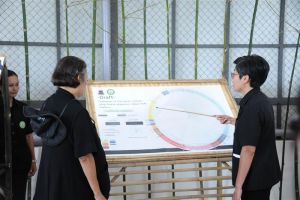 Furthermore, there was a project to develop and test the KUML8 green mungbean variety with large seed size and toleration in flooding and drought condition at Kasetsart University, together with two standard mungbean varieties, i.e. Kamphaengsaen 2 and Chainat 84-1 as well as two other excellent species. It is found that KUML8 green mungbean is suitable for planting in dry season. The seed size is larger and more productive than Kamphaeng Saen 2 and Chainat 84-1 which are standard varieties. The duration of the ripening is also consistent. In addition, the project will carry on with the test of KUML8's production. Later, Chaipattana Foundation also joined with Kasetsart University in doing the research on Heirloom Fruit Trees (Heirloom). In the area of ​​land development project, Ban Wang Ri, Nakhon Nayok province, the land is covered with many wild plants and many kinds of fruit trees that are more than 50 years old. It is the Heirloom fruit tree, which may be a rare species at present. Therefore, they have begun to study how to store the fruit tree seeds in the area. There have been studies of five species of over 50 years old fruit trees: Bael, Star-Apple, Marang, Garcinia and Wild Jujube. Since there is no information regarding these varieties of fruit trees, there will be comparative studies with the use of DNA sequence data in order to study the genetic relationships between the fruit trees. There is a study of breeds of the same type of fruits to gather information about the species for further use.
In addition, the Chakraband Pensiri Center cooperated with Maejo University to do research on two projects: 1. Selection of rhizobia in conjunction with the nitrogen fixation tests of green mungbean varieties. Rhizobium in the area of ​​ the Chakraband Pensiri Center in Saraburi province was selected to test for Nitrogen fixation, which was performed with 3 green mungbean varieties, CKP No. 1, Chainat 72 and Kamphaengsaen 2, in order to obtain three effective rhizobia species together with nitrogen and green beans.
Then, all 3 rhizobium species were tested for nitrogen fixation in the control room and environmental control. The results showed that the second specie of rhizobium could work together with all varieties of green mungbean. The highest nitrogen fixation from the air was at the beginning of the pod which can be harvest later on.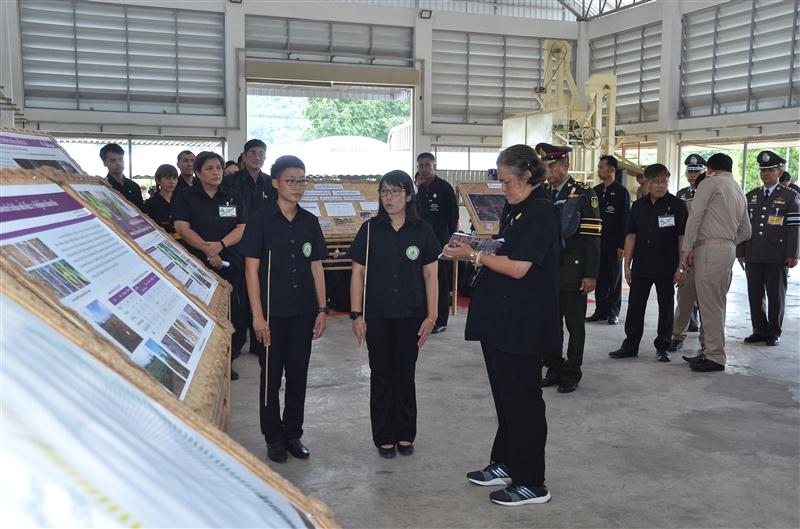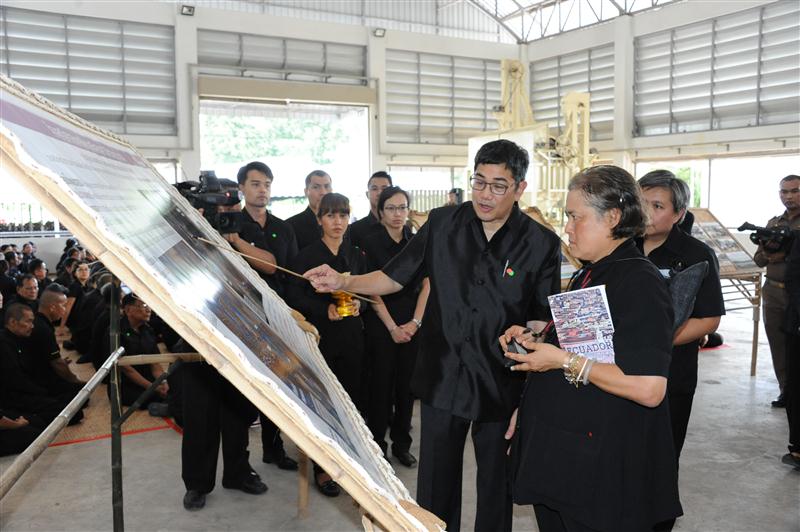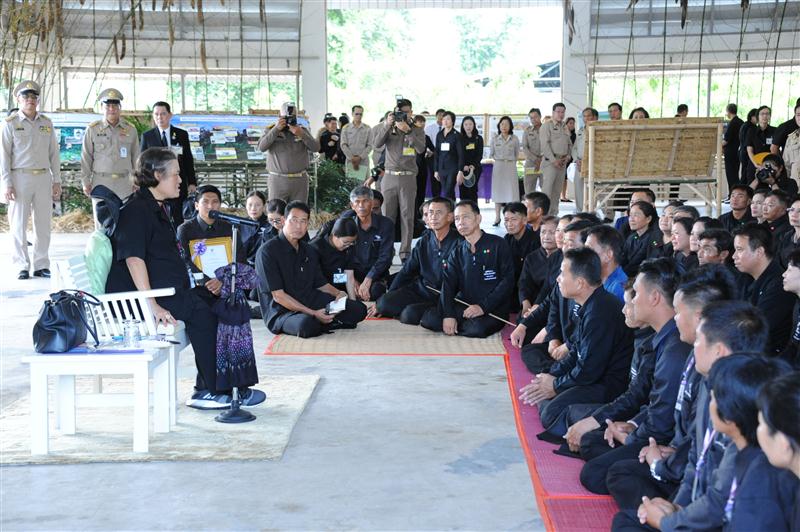 Later on, the second specie of Rhizobium was tested for its efficacy with CKP No. 1, Chainat 72 and Kamphaengsaen 2. The results showed that the CKP No. 1 gave highest production per rai and had the highest concentration of protein and trace elements found in the seeds of CKP No. 1 mungbean. The CKP mungbean was the green mungbean developed in collaboration with Maejo University and the Chakraband Pensiri Center.
Also there was a cooperation of research in improvement of mango and guava varieties. 280 varieties of mangoes were collected and evaluated at the Chakraband Pensiri Center in Saraburi province. To develop new species with economic value in the future such as the guava breeding, it is a varietal development for the delicious purple guava.
In addition, HRH Princess Maha Chakri Sirindhorn graciously commanded the Chaipattana Foundation to cooperate the 'fight together, be ready' project to prepare flood victims for the disaster affected community. The Chakraband Pensiri Center was assigned to launch the pilot project in Puka Sub-district, Ban Mei District, Lopburi province, together with the Puka sub-district Administrative Organization. The principle of 'fight together, be ready' project is to build a strong community and provide evacuation area for the victims in the community, preparing food and water supplies in order for the people to be ready in case of flooding.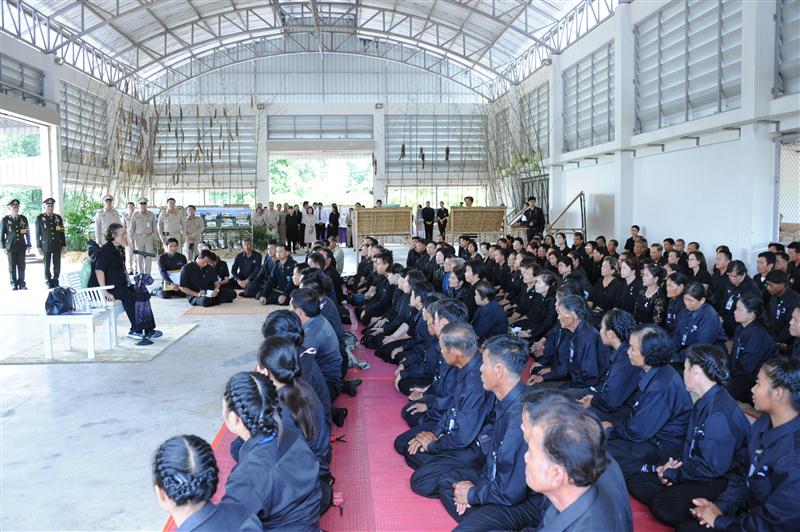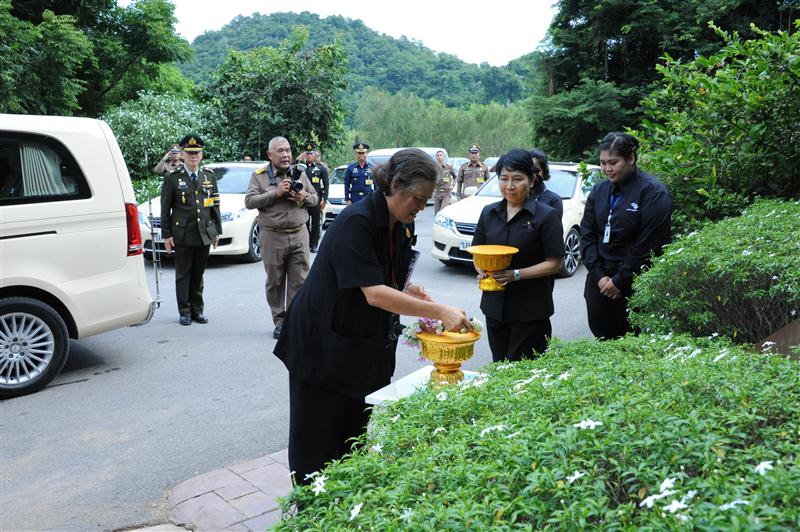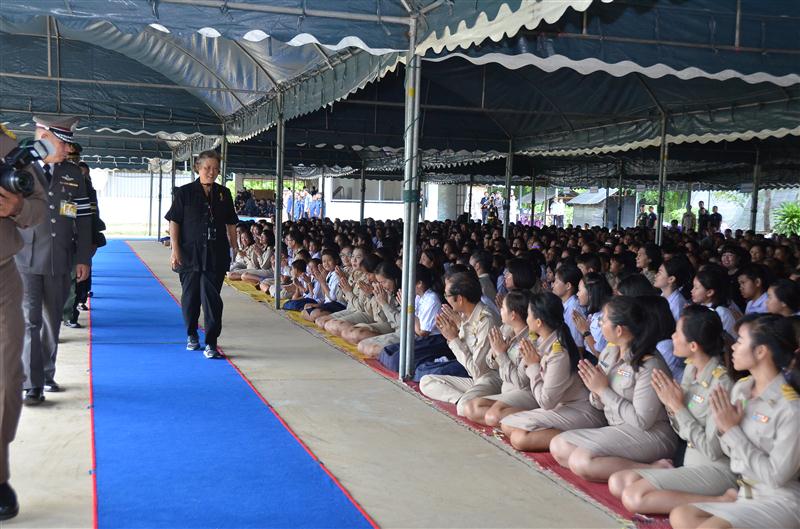 In addition, the Chaipattana Foundation has also provided machinery to assist victims and rehabilitate the affected areas. Last July, there was flooding in Tambon Nong Sai Khao, Ban Mei District, Lopburi province, where there are rice production areas of the Royal Seed Project 'Friends for Friends' of Chaipattana Foundation. HRH Princess Maha Chakri Sirindhorn graciously commanded The Chaipattana Foundation to send water pump to help out the disaster-affected people from flooding. As a result, with HRH Princess Maha Chakri Sirindhorn's graciousness, the Canal village survived from the struggle of flooding and it could also save the area about 2,000 rai, which supports people to be able to harvest rice later on.
In conclusion of today's work, the Information Officer of the Chaipattana Foundation together with Geo-Informatics and Space Technology Development Agency (Public Organization) has provided the information and satellite data processing of how HRH Princess Maha Chakri Sirindhorn's graciousness has helped the people.
Chaipattana Foundation has been operating in accordance with HRH Princess Maha Chakri Sirindhorn's initiative to produce plant varieties that are essential to daily living and quality of life. The process was to collect and accumulate plant varieties for farmer's best selection even if they are not the best economic breeds. However, it is worthy enough to produce quality products and strengthen the self-sustainability and family sustainability, as stated in the royal speech at the Palace on 7th July 2009, "the key factor of agriculture, besides the water and soil, is to have good plant varieties for farmers. It is important for the people to understand the processes themselves to better prepare and provide for future generations."