Overview
His Majesty the King has extensively offered his ideas to development work for the nation. Over the past decades, he had developed and improved his ideas to be adopted by ordinary people and implemented by various governmental agencies as royal development projects in line with local conditions. His ideas had been established as the concepts and theories behind all royal development work, and especially the guideline for project implementation of the Chaipattana Foundation.
The Unprecedented Simplicity
His Majesty's simple methods in solving problems have often astounded many experts who incline towards high technology for development work. There is a consensus in the development community that His Majesty favours simplifying complex situations, making confusing issues comprehensible, and using common sense to solve problems. Turning complication into simplicity is difficult, just as complicating simplicity is easy. "Make it simple" is His Majesty's frequent advice. Simplicity underlies most of his initiatives.
All royal development projects deal with diverse fields and serve varied purposes. Most of them were aimed at helping people make a better living.  Since the majority of Thai people depend on agriculture for their living, the projects usually involve the improvement of production inputs, such as soil, water, farmland, capital and agricultural knowledge, the conservation of natural resources and environment. Regardless of its scope, the heart of each project is simplicity. His Majesty has embraced the absence of complexity in both concept and technology, which have to be reasonable, take a short time to apply and solve problems effectively, as well as be conducive to sustainable development.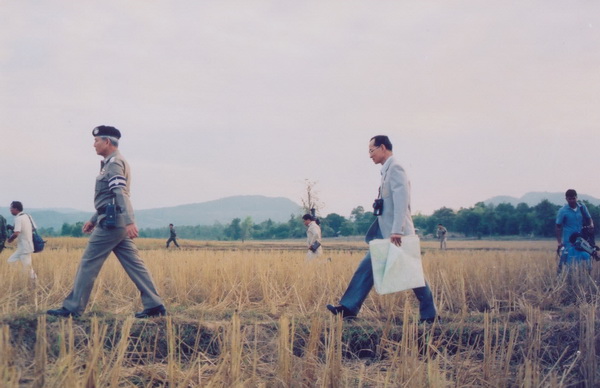 "This royal initiative (the Rama IX Lake waste water treatment system) may be viewed as low-technological. We should not depend rigidly on sophisticated technology. It is a small-scale project which can be more efficient than those large ones. I have always thought that small is beautiful."
His Majesty King Bhumibol Adulyadej

The Importance of Learning and Adapting
Seeking true knowledge of nature and resolving abnormal conditions are also the key elements in His Majesty's concepts and theories. They are reflected in royal initiatives such as using fresh water to flush out polluted water in canals or to dilute it with the help of natural tidal fluctuations.  Another example is the utilization of water hyacinth, a common aquatic weed, to absorb pollutants and mitigate water pollution. His Majesty compared this process to using adharma (evil) to fight evil, meaning that both pollutants and weed are undesirable but one can be used against the other to get dharma, or virtue, i.e. desirable, clean water. Such concepts and philosophy in working reveal the use of knowledge combined with sati (consciousness) and panya (intellect), forming the word santipanya, or wisdom in managing conditions and factors, whether negative or positive, in the environment to create benefits. This truly reflects His Majesty's skills of natural resources management.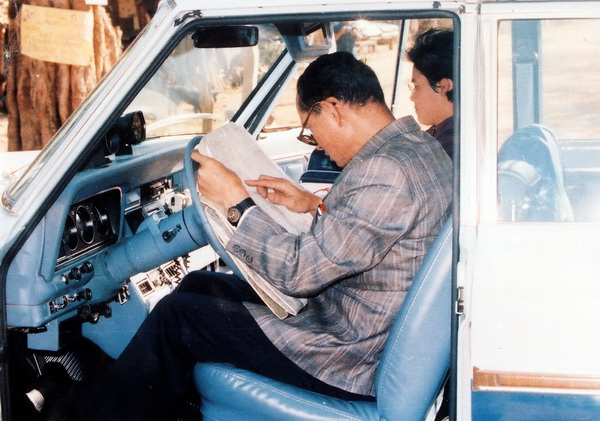 Another key feature of His Majesty's concepts and theories for development is efficient distribution of assistance. The priority of royal development projects is the people who are facing problems. Therefore, His Majesty has always ensured that efficient assistance reaches his people so they could have "enough to live, enough to eat" before they are eventually able to "live well and eat well."
His Majesty also put more emphasis on activities that are worthwhile rather than those that yield high return on investment. This gave birth to his common phrase "our loss is our gain." The gain is prosperity and happiness of the Thai people for which investment must be made. This investment is worthwhile although the return is not necessarily the financial profit that, for most people, defines "return on investment."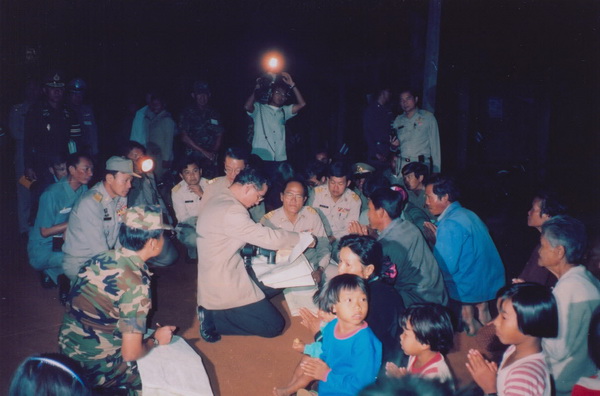 "Don't be glued to the textbook" is another important element in His Majesty's development philosophy. It suggests that developers should learn about different local conditions where the project implementation would take place to enable them to compromise and appropriately adapt their approaches, rather than conforming to common academic or technical principles which may not effectively serve the local communities and the purposes of the projects.
Lastly, another royal development concept is to promote unity and enhance the spirit of cooperation. Participating agencies are encouraged to be united in action and in mind and put aside their egos for the mutual benefit.