Agricultural Development
"Cultivation is regarded as a highly important occupation for it produces essentials of life. Without cultivation, we would not have raw materials for food and garments or any construction work. Hence, we have to conduct agriculture."
His Majesty the King's royal speech delivered on May 11, 1978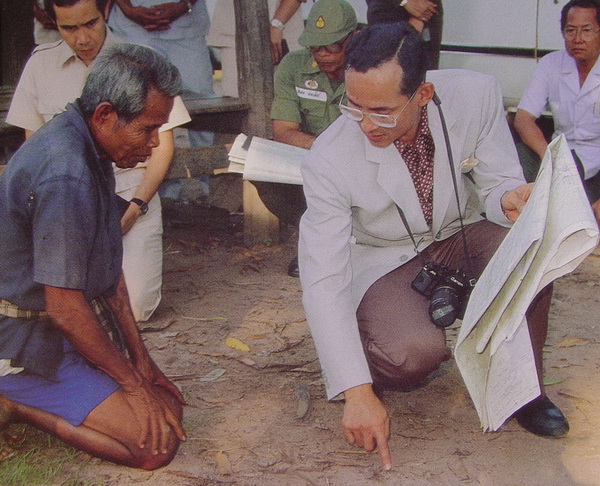 Soil Solutions and Development
Healthy soil is essential for agriculture. If the soil is severely deteriorated and undernourished, fruitful cultivation is not possible. Common problems for soil are acidity and salinity, which require different solutions. His Majesty the King granted initiatives to conduct studies and experiments in search of different methods to solve the soil problems. The results showed that each piece of the Chaipattana Foundation's donated land called for different solutions.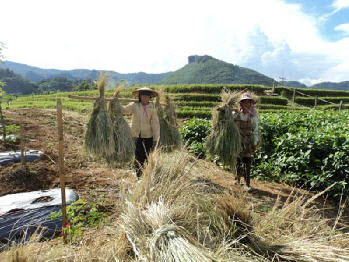 The key royally initiated projects for soil solutions and development include:
Development Project for the Deteriorated Area of Khao Cha-ngum
Location: Khao Cha-ngum Sub-district, Photharam District, Ratchaburi Province
Soil at Khao Cha-ngum had severely been deteriorated due to land misuse, to the extent that it was no longer arable. Owing to the Chaipattana Foundation's soil development and rehabilitation projects, the landscape of laterite soil and fallen trees was replaced with a picturesque view of green and flourishing trees and an abundant mixed deciduous forest, spreading moisture over the area.  The efforts prompted His Majesty's concept of Do Not Abuse the Forest, Do Not Abuse Nature, and the theory of Reforestation without Planting, which have produced tangible results as witnessed here.
Experimental Study Project for Acidic Soil Solutions
Location: Ban Na District, Nakhon Nayok Province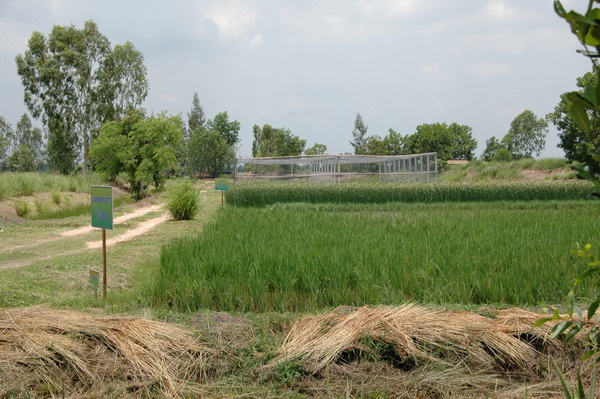 Soil acidity damages and impedes cultivation. A piece of land at Ban Prik Sub District, where the soil was so highly acidic that rice could not be cultivated, was another problem overcome by His Majesty's initiative.  His methods were granted to improve the soil conditions, eventually making the land fertile again for cultivation. This led to the establishment of the Royally-Initiated Project of Experimental Stud for Acidic Soil Solutions in Ban Na District of Nakhon Nayok Province. The key experiment had been conducted by using 3 methods to solve the acid soil problem. These include using rainwater, developing a plot of land to adopt the New Theory and experiment on the use of marl and water to dilute the acidity, and using lignite ashes. The outcome of this experiment serves as a useful model to be adopted by all farmers.
Experimental Study Project for Saline Soil Solutions
Location: Kong District, Nakhon Ratchasima Province
The project focuses on growing crops suitable for soil conditions such as coconut trees, and those which will improve soil conditions after rice harvest such as Sunn Hemp (Crotalaria Juncea L.) and legumes. Building earthen embankments is also another approach adopted by this project to create ridges for growing fruit trees along with other different types of vegetables.
------------------------------
The New Theory
In 1992, His Majesty the King introduced the concept of the New Theory, outlining an agricultural approach which emphasizes proper land and water management for optimum benefits. His Majesty was well aware of several factors that had impeded productive agriculture, including limited land area, risks from adverse climate and rain suspension periods, and lack of apt agricultural methods to replace the widespread mono-cropping practice.
The New Theory is an alternative to other agricultural methods adopted by farmers who are financially challenged and own very little land on which to make a living. The core principle of the theory is to adhere to the guideline of the Sufficiency Economy Philosophy, which encourages farmers to conduct their lives in moderation and enables them to become self-reliant.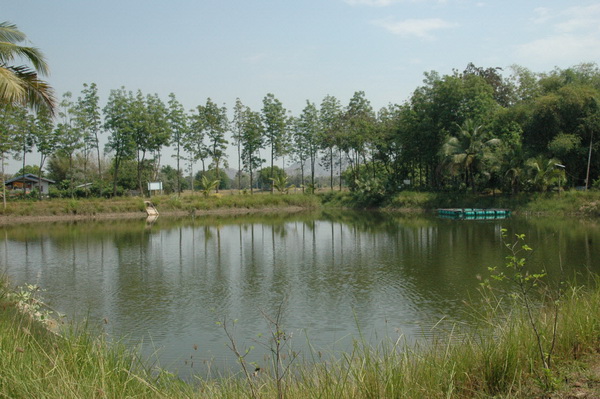 The following royally-initiated projects implemented by the Chaipattana Foundation adopt the New Theory.  They also serve as the learning centers for farmers and interested public to learn and utilize the New Theory.
Wat Mongkol Chaipattana Area Development Project
Location: Chalermprakiat District, Saraburi Province
Effectively illustrating the concept of the New Theory, the Wat Mongkol Chaipattana Area Development Project was established in the vicinity of the Wat Mongkol Chaipattana Temple in Saraburi province. The project adopts the complete concept of the New Theory which requires a well-managed water supply system to deliver water from a large reservoir (the Pa Sak Jolasid Dam nearby) to a small reservoir (the Huai Hin Khao Reservoir located in the project area) before being generated further into each farmer's pond. This is to ensure adequate water supply for agriculture during the dry season.
In addition to the royally-initiated projects as stated above, the Chaipattana Foundation had also implemented other development projects in line with the New Theory.
Ban Daen Samakkhi Rain-Fed Agricultural Development Project
Location: Khao Wong District, Kalasin Province
This project was set up to study and experiment with the New Theory, focusing on land management and construction of water retention ponds to allow farmers' access to adequate water supply. In the past, economic impoverishment was severe and farmers had struggled to grow rice. The harsh condition of the area prompted His Majesty to name the badly rutted road leading into the village as a disco track.
Furthermore, several demonstration plots for the New Theory have also been developed as follows.  They serve as the learning centers for farmers as well as the general public.
The Pak Thong Chai New Theory Demonstration Plot in Nakorn Ratchasima Province
The Pak Tor New Theory Demonstration Plot in Ratchburi Province
The Nong Mor New Theory Demonstration Plot in Nakorn Sawan Province
------------------------------
Integrated Farming
A number of land plots donated to the Chaipattana Foundation have been developed into demonstration plots to illustrate different agricultural practices to be adopted by farmers to suit different areas and occupations. These plots are to serve as models from which farmers and the interested public could learn and utilize the knowledge for their own benefits. The key projects for integrated farming are as follows:
Late Princess Mother's Garden
Location: Cha-am District, Phetchaburi Province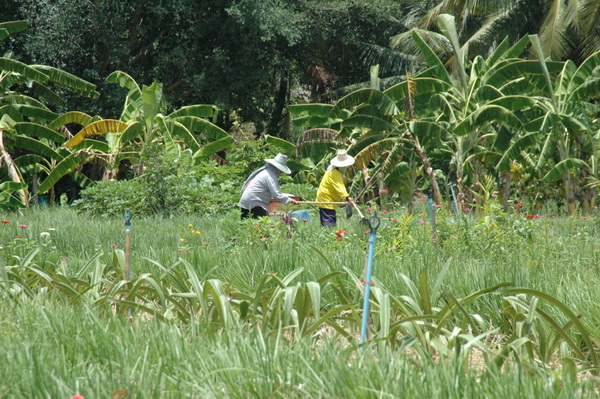 Located in the vicinity of the Huai Sai Royal Development Study Center under Office of the Royal Development Projects Board (RDPB), the Late Princess Mother's Garden is operated in accordance with the royal initiative by emphasizing simple methods of agricultural practices for farmers to adopt and develop to suit different local conditions. It also stresses sustainable development for agriculture.
Agricultural Service Center
Location: Lam Luk Ka District, Pathum Thani Province
This center aims at disseminating knowledge and information to promote sustainable agriculture. The Center allows farmers who previously rented the land for rice farming to stay on and make a living from adopting the New Theory. These families serve as the examples to other farmers.
Kasornkasiwit School (The Water Buffalo & Agricultural School)
Location: Mueang Sa Kaeo District, Sa Kaeo Province
Promoted for Ecotourism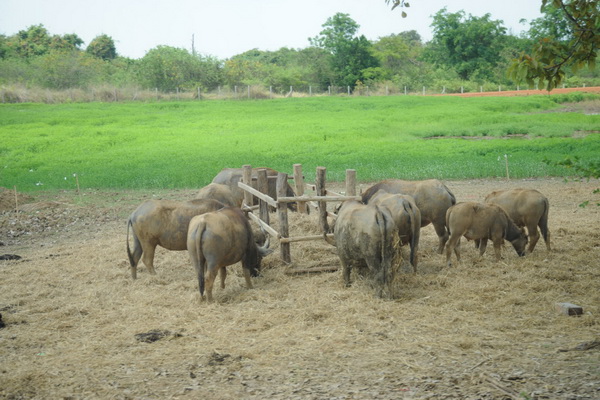 Her Royal Highness Princess Maha Chakri Sirindhorn recommended that the Chaipattana Foundation establish the School to train buffaloes as well as their owners for agricultural purposes, particularly rice field plowing, to enable them to work together effectively. The Kasornkasiwit School also serves as a learning center for Thai traditional ways of farming and living based on the Philosophy of Sufficiency Economy.
Click here for more information

Chakrabandh Pensiri Center for Plant Development 
Location: Mae Sai District, Chiang Rai Province
Promoted for Ecotourism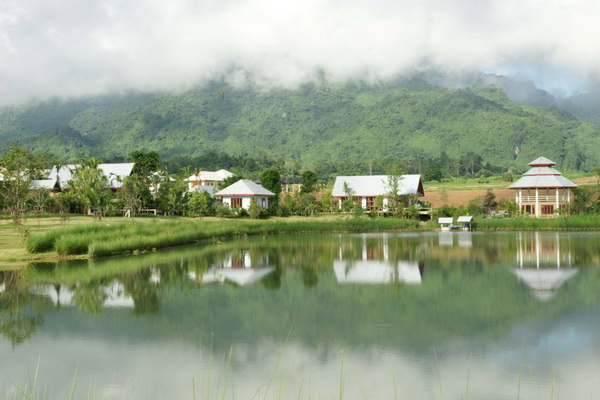 The Chakrabandh Pensiri Center for Plant Development was established according to the initiative of Her Royal Highness Princess Maha Chakri Sirindhorn in commemoration of the 100th birthday anniversary of His Highness Prince Chakrabandh Pensiri who was an extinguished scholar and expert in agriculture. His agricultural contribution helped lay a foundation for the conventional agriculture which aimed toward sustainable agriculture.  The main purpose of this Center is to develop plan varieties that are of high quality and better resistant to diseases and pests.
M.L. Bua Kitiyakara 100th Anniversary Center
Location: Ongkharak District, Nakorn Nayok Province
This is another project of the Chaipattana Foundation initiated by Her Royal Highness Princess Maha Chakri Sirindhorn in commemoration of M.L. Bua Kitiyakorn who introduced her to Moringa, also commonly known in Thailand as Ma Room, which has been consumed as herbs for nutrition and used as herbal medicine. The work here is to compile different varieties of Moringa from different areas of the country and conduct experimental studies on the benefits, cultivation, propagation and processing of Moringa into various products.
Bhumirak Dhamachart Center
Location: Nakhon Nayok Province
Promoted for Ecotourism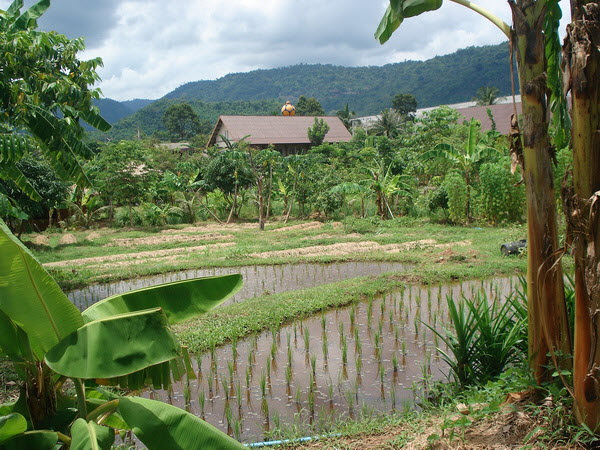 The Bhumirak Dhamarchart Center is a project for natural conservation which sufficiently demonstrates His Majesty's concepts and theories of sustainable development in the form of a living museum and small-scale outdoor activities. The Center exhibits royal development work such as soil quality improvement, wastewater treatment, the Chaipattana Aerator, the New Theory, the renewable energy, and the Three Forests Four Benefits.
Royally-Initiated Demonstration Project for Horticultural Crops
Location: Tha Raeng Sub-district, Phetchaburi Province
This Project was set up to be a demonstration centre for horticultural crops cultivation. A large water retention pond was built retain the overflow of water from the Phetchaburi River to be used for off-season rice farming and the dry season.
Paddy Demonstration Plot Project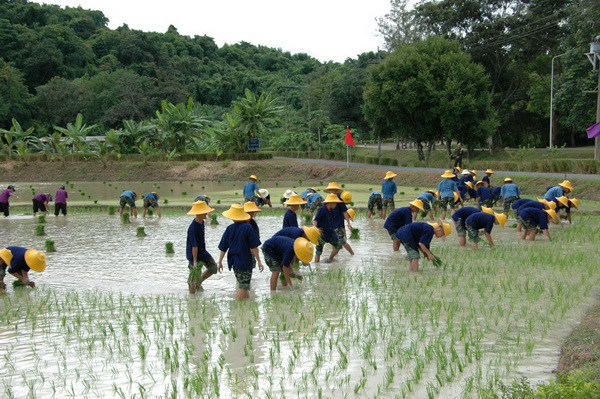 This Project covers land located in 6 provinces of Phitsanulok, Ayutthaya, Lopburi, Suphanburi, Samut Sakhon and Saraburi. It serves as a model for rice farming based on proper integration of chemical substance and natural extracts which will be friendly to the health and the environment.
Tha Khai Land Development Project
Location: Mueang District, Chacheongsao Province
The Land Development Project in Tha Khai Sub-district was set up to study and experiment on the closed system of Black Tiger shrimp farming, parallel to conducting farming to find suitable varieties of plants for brackish water areas.
Natural Habitat and Nursery for Fingerlings
Location: Tha Ruer Sub-district, Pak Phli District, Nakhon Nayok Province
This project has been developed to provide low-priced fingerlings for farmers to raise for supplementary income. The fish will also serve as a good source of protein.